How to find the best daycare for your baby (a free research-based guide)
by Anya Dunham, PhD
Factors to consider and questions to ask as you choose daycare for your baby
Many babies transition to infant-toddler daycare as their parents return to work outside the home or commit to other responsibilities. You might be getting ready for this transition when your baby is a few weeks old, a few months old, or 12 or even 18 months, depending on parental leave policies where you live and your family's choices and circumstances.
I wrote this research-based, practical, short guide to help you choose daycare for your baby and settle your baby in.
(The guide is based on a chapter in my award-winning book, Baby Ecology.)
This guide is not intended to answer if your baby should go to daycare or when the best time to start is. It does not weigh in on whether daycare is 'good' or 'bad' or whether parents should work or stay home. I trust that you have made decisions that are best for your family. I wrote this guide to help you choose the best daycare option available if daycare is the route your are going.
It is FREE and does not require providing your e-mail to view or download. (You can sign up for our newsletter if you like though - see link below.)
Please feel free to share this guide with anyone who might find it helpful.
---
Have you found this guide helpful?
Do you have comments or ideas for improvement? Please share your feedback here.
What Others Have Said
Click below to see contributions from other visitors to this page...

A really good read

This was a really good read. Parents need to feel supported and listened to as they transition back to work and need to make that important decision about …
---
---
Using hundreds of scientific studies, Baby Ecology connects the dots and helps create the best spaces and experiences for sleep, feeding, and play. Now available in stores!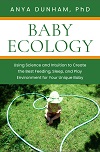 ---
Warmly,
Anya