DIY baby keepsake box
by Anya Dunham, PhD
20 ideas for items to include in a DIY baby keepsake box to remember your baby's first year.

Making a DIY baby keepsake box for your baby – a small box for special memories of your baby's first year – can be a fun and meaningful project. You can begin assembling it at any point, but starting when your baby is born, or even before birth, will help you remember to save those precious first memories!
You can purchase a ready-made keepsake box or make your own. I find a shoe box or a scrapbooking box is about the right size: big enough to hold all the special memories, but small enough to keep in your bedroom or baby's nursery.
Here is a list of 20 ideas for what to include in your DIY baby keepsake box.

DIY baby keepsake box: items to collect before birth
You can collect several special keepsakes even before your baby is here.
For example:
Your baby's ultrasound pictures
A letter to your baby from you, your partner, or other family members
Drawings or notes from the soon-to-be big brother or sister. For my middle daughter, I included the list of names her big sister put together for her (the star of the list was 'Bumblebee'!).
A photo of you during pregnancy. Of course, you will have many digital photos from this time, but there is something special about a printed one. By the time your baby is an adult looking through the memory box, the photo may look nicely "vintage" – who knows how photos will be printed in the future?
A note about a favourite song or poem you have been singing or reciting to your belly. Did you know your baby can not only hear songs and poems in the third trimester, but also recognize them?1

 This tells us babies can pay attention and memorize things even before they are born - amazing, isn't it?

A note about your pregnancy.

Have you had any food cravings?

 Your baby has been tasting these foods, too – through the amniotic fluid!2
Items to add through baby's first year
Continue adding to the memory box after your baby arrives. You could add:
A letter to your baby on the day he or she was born

A clipping of a newspaper on birth day

Hospital wristbands (baby's and mom's)

Hospital crib card with baby's birth stats

Your baby's first outfit or going home outfit

Baby hat

Cards or printed e-mails or texts from friends and family

Baby's hand and foot prints

A lock of hair from the very first haircut

Baby's favourite book

Baby milestone journal. I included not only typical milestones like crawling and walking, but also a list of "firsts": "the day you met your grandparents", "the very first time your feet touched the ocean".

A favourite toy

Any special gifts or heirlooms you baby may have received from family or friends. One of my daughters received a silver spoon from her great grandparents; my other daughter was gifted a special book of family recipes by grandma.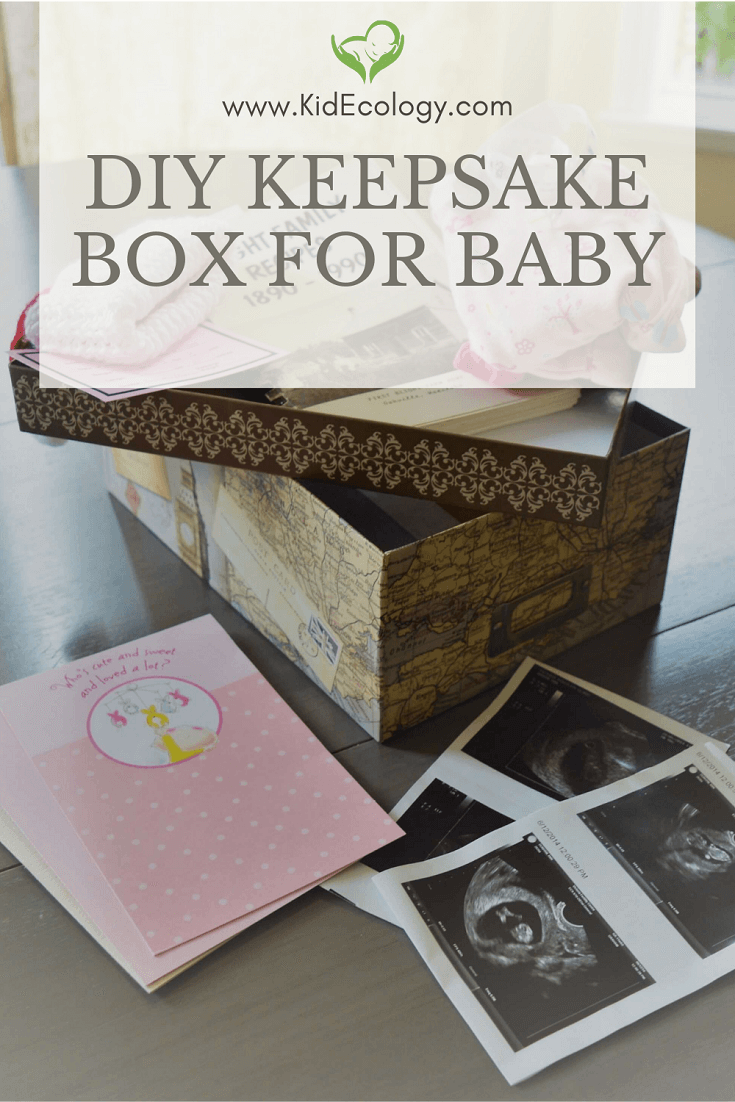 A keepsake box will be used far beyond your baby's first year. See other ideas for "long lasting" DIY projects here.
---
References
1. DeCasper AJ, Lecanuet J-P, Busnel M-C, Granier-Deferre C, Maugeais R. (1994) Fetal reactions to recurrent maternal speech. Infant Behavior & Development 17(2):159-64
2. Schaal B, Marlier L, Soussignan R. (2000) Human foetuses learn odours from their pregnant mother's diet. Chemical Senses 25(6):729-37
---
---
Using hundreds of scientific studies, Baby Ecology connects the dots to help you create the best environment for sleep, feeding, care, and play for your baby.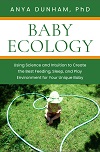 ---
Warmly,
Anya